Crazy Eds Pure Protein Isolate - Made in USA.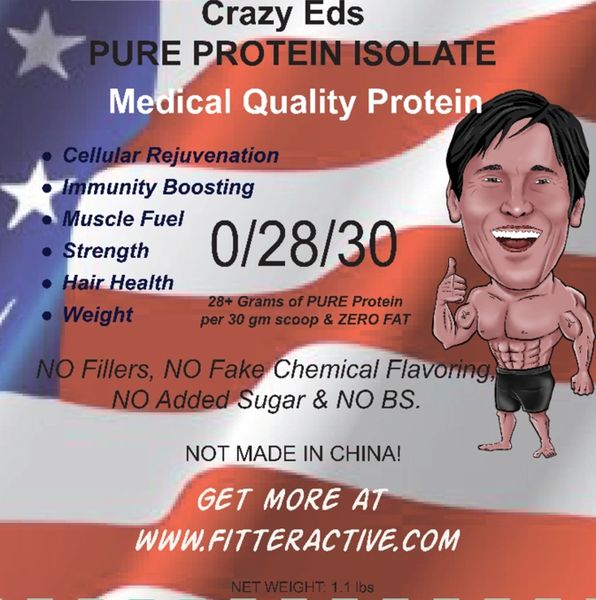 Crazy Eds Pure Protein Isolate - Made in USA.
Power up the Crazy Ed FitterActive Whey™.
Made in the America Protein. 
The 'OG' of High-Grade Muscle Building Powder.

Its Medical Grade Pure Powdered Whey Protein Isolate.
The FitterActive Original - "OG" FitterActive Whey™ is now Crazy Eds Pure Protein Isolate and is still 100% made in America pure whey isolate and nothing else.  No flavor, no sugar, no additives. Crazy Eds Pure Protein Isolate Whey mixes instantly with just spoon stirring - no shaker needed, no clumping, and is rated as one of the easiest powders to mix. 
More effective for you than other Protein drinks because it is simply more pure than the majority of powdered proteins being sold in retail chains and has 0 Fat
Feel comfortable that you know where your made in USA powder came from.
This pure made in USA Protein powder is perfect for just about everybody such as seniors wanting an easy way to ingest quality proteins, serious bodybuilders, expecting and new moms, those diagnosed with cancer and need protein, and for majorly active lifestyles.
Start living life the Crazy Eds FitterActive Whey™ !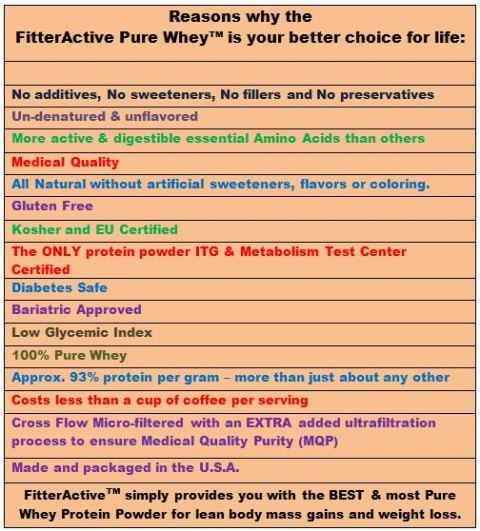 This is NOT the mass made in China protein powders sold in your local Valmartz and other national retail stores.  Many of the big brand name protein powders are being sourced from Alibaba .com in China with many still using Soy Lectin and ACESULFAME (can you say Saccharin).  At FitterActive we are proud to share with you that Crazy Eds Pure Protein Isolate powder is crafted in small controlled batches right here in America and does not use Soy Lectin or Acesulfame. 
Proteins are the main building blocks of the body and FitterActive™ has researched and acquired one of the fastest mixing and purest forms of whey protein powders available. American Made, Medical Grade, Crazy Eds Pure Protein Isolate is absolutely of the purest quality.  Only a few in the industry have access to its manufacturing process. 

Ed is proud to say - "Made in the USA". 
Crazy Eds Pure Protein Isolate powder goes through an expensive Cross Flow Micro-filtration (CFM) process and then an added ultra-filtration process to ensure purity.  In our FitterActive™ research we approved the CFM filtration process as opposed to the older ion exchange so that FitterActive™ Whey isolate is not diminished  in quality, effectiveness or immune boosting properties many other Protein isolates do not have. 
The Crazy Eds Pure Protein Isolate chosen filtration and processing system removes the vast majority of impurities such as fat and lactose leaving the majority of protein micro-fractions and immune boosting components including important amino acids making Crazy Eds Pure Protein Isolate one of the purest and most effective on the market today. 
In contrast:  A major brand name powder claiming to be pure has 1/2 the amount of protein per gram as Crazy Eds Pure Protein Isolate.
At FitterActive™ – we take pride in knowing we are providing super pure American Made protein at the best available price.
Why do I need Crazy Eds Pure Protein Isolate Powder?
Because it can be a life changer.  That is what we hear from our customers. More energy, easier and faster fat loss, better moods, no ups and downs throughout the day and so much more. Quality protein is extremely important to overall health and anti ageing.  It builds and repairs muscles, bones, tendons, organs and even skin. It's actually proven to repair damaged cells and helps to enhance immunity as well as hair and nail health. When the body has adequate protein it is more energized and functions better.  Higher protein diets have been proven to enhance quality of sleep and can assist in weight loss by its capability to control many important processes related to metabolism. 
How much protein do I need?
If you eat regularly and fairly healthfully we have found that adding 1 to 2 servings of Crazy Eds Pure Protein Isolate protein powder each day is what most people need  in order to notice the amazing benefits of adequate quality protein.  For more serious athletes or those whose diets are deficient in quality proteins they may need 2 or 3 servings per day to get the body to balance.
Over all - If you are at a healthy weight, but do not lift weights or exercise much we recommend about .5 grams of protein (in total from meals and or supplements) per pound of body weight but note that is the minimum we would recommend for a healthy body and life. For those wanting to maintain an active lifestyle including regular exercise and training we recommend 1 gram of protein per pound of body weight and for Power-lifters, Bodybuilders extreme athletes we recommend 1.5 grams of protein per pound of body weight for maintenance. 
Why does Crazy Eds Pure Protein Isolate Only Sell NOT Made In China Whey Protein Isolate?
Only USA and New Zealand are of the highest standards without the pollutants running through Chinese rivers and streams of which their cows drink from.  Even though Protein powder made in China is much cheaper we will not sell it.  
The risk of an unknown process is not a risk FitterActive™ or Crazy Ed will take with our customers.

  In addition, China is still trying to clean up the melamine Milk contamination 

scandal in which widespread illness and some infant deaths from kidney stones resulted from contaminated powder. Melamine, an industrial chemical used as a filler to mimic a higher protein level, but lacking in nutritional value had been added to the products.-  known as China's "milk scandal,"  




We use NO Fillers in our Protein Isolate Whey which is one reason why it is considered the purest form of protein powder available. In addition - with our protein powder you know where it came from and what is actually in it. While quantity of ingested protein is a consideration more importantly is the QUALITY of the quantity of your Protein Powders that can make a huge difference and FitterActive™ is committed to only the most pure and effective products.  Crazy Eds Pure Protein Isolate is an extremely pure and concentrated form of whey protein powder.  It contains between 90 to 95% protein and has tested constantly to be no less than 92%. (Third Party Testing.)




It is a good source for individuals with lactose intolerance as it contains little to no lactose and is extremely low in fat.- like zero fat!. It is easily digestible and contains more protein per gram than others.  Other protein powders including protein concentrate has only 29% to maybe 80% protein depending on product, usually comes from China, includes fillers, flavors, additives, sweeteners, possibly deadly poisons and or heavy metals, along with more fat and lactose and usually is processed in a Chinese facility without American oversight.




With other protein powders on the market you may actually find that your allergy reactions increase while your protein status declines which leads to muscles and wounds taking longer to heal as well as a decrease in your immune system.  For surgery patients, added sugar can increase inflammation slowing the healing time.  For Oncology patients, a low quality protein can actually sap you of your last bit of energy and strength.  FitterActive™ is committed to providing you with the highest quality products available and our Medical Grade U.S. Made Crazy Eds Pure Protein Isolate is of the highest quality.



Will Crazy Eds Pure Protein Isolate Powder help me lose weight
?
Science tells us that extra protein helps you lose weight by boosting your metabolic rate and reducing your appetite.  Our whey protein isolate powder promotes satiety (feeling full) and therefore can actually help in reducing cravings for fatty and high calorie foods.  In one study of women who increased their protein intake to just 30% of calories consumed (and changed nothing else in their lifestyle) it was found that these women ended up eating 441 less calories per day and did not even notice it.  At the end of the 12 week study these women lost 11 pounds by simply adding more protein to their diet with no added diet or exercise. 
How does your protein Powder mix?  Do I need a shaker or blender?
No, no need for a shaker or blender to mix our Medical Quality Powder.  Crazy Eds Pure Protein Isolate is so pure and fine it basically melts in your liquid of choice. Our Director of Research, Ed Gaut, has tested it in coffee, milk, water and juices to ensure the mix-ability and taste.  His comments were "I am so impressed with the mix-ability of the FitterActive protein powder - it simply dissolves with simple spoon stirring for about 30 seconds.  Unlike the other proteins we tested there was no clumping.  As per the flavor - it is unflavored yet has a delicious mild taste of melted homemade ice-cream??."
OTHER FOOD FOR THOUGHT:
One of Crazy Eds Pure Protein Isolate's potential effects is its apparent ability to assist in the elevation of Glutathione. The importance of Glutathione for the proper function of the immune system is extremely important and the founder of FitterActive™, Ed Gaut aka Crazy Ed cuz he is Crazy About fitness, has done extensive Glutathione research including blood and urine analysis of over 60 test subjects in-order to test Glutathione effect on actual human cellular regeneration.  Glutathione is arguably the most important water-soluble antioxidant found in the body.  Studies suggest intracellular Glutathione levels are one way to modulate immune function and a large whey protein intake can help the body generate Glutathione.

Reviews