FitterActive™ Gold Pure Bone Broth Powder (70 servings)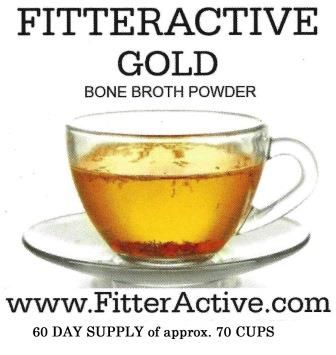 FitterActive™ Gold Pure Bone Broth Powder (70 servings)
FitterActive™ GOLD powdered Chicken Bone Broth tastes great and is good for you with an amazing amount of claimed benefits.  Our Powdered Chicken Bone Broth is of the highest quality. Made in the USA with USDA inspected and passed chickens.
NO added ingredients, just chicken bones, meat and water making it the most pure chicken Bone Broth powder you can find.  So pure, all you need is only 1 FitterActive™ Scoop per 1 cup of water to get the benefits of Bone Broth.  The exclusive FitterActive™ Gold measuring spoon is included with your order.  FitterActive™ Gold pure bone broth powder has not had any MSG, salt, sugar or seasonings added to it & makes a perfect base for your own recipes. A delicious addition to gravies soups & stews.
Benefits include:
Weight loss.

Better Sleep.

Many including the founder of FitterActive™ Gold Bone Broth claim a better and more restful night sleep.

Diminished Pain.

The proteins in FitterActive™ Gold Bone Broth are strongly anti-inflammatory which can help with Joint pain and Arthritis pain diminishment and maybe helpful in treating osteoarthritis and joint pain.

Great source of protein - each FitterActive™ scoop has as much (or more) protein as a large egg.

Components of our Bone Broth have been said to help the body develop Glutathione - a powerful and proven cellular regenerator.

The components of FitterActive™ Gold Bone Broth also include vitamins, minerals, and the conditionally essential amino acids glycine, proline, and glutamine.
FitterActive Gold™ tastes great as is - with NO added MSG, sodium, or seasonings so if you prefer you can flavor to your very own liking.

If desired here are some quick and easy flavoring suggestions: Add a small pinch (1/8) of a bouillon cube or celery and sage or even a dab of garlic for those that love garlic. We have also heard that Old Bay seasoning is a good one as well.
 FOOD FOR Thought:
Outside Magazine calls bone broth the ultimate sports recovery drink while the New York Times has declared it as the new coconut water.  
Another interesting fact is the Los Angeles Lakers star Kobe Bryant credits regular consumption of bone broth for helping him recover from some serious injuries. In fact, according to the Washington Post newspaper, practically the whole L.A. Laker team has been on bone broth since the 2012/2013 season.
In yet even another article touting the amazing benefits of the components of FitterActive™ Gold bone Broth found on Shape. com of shape magazine states....... ".... here's why you should try drinking bone broth

1. Heal and seal your gut. According to Jill Grunewald, a holistic nutrition coach and founder of Healthful Elements, a cup a day works miracles for leaky gut syndrome but it's also good for protecting non-leaky guts. The gelatin in the bone broth helps seal up holes in intestines. This helps cure chronic diarrhea, constipation, and even some food intolerances.
2. Protect your joints. Taking glucosamine supplements to help with joint pain has been common knowledge for years, but it turns out that bone broth has glucosamine too. But unlike pills, the broth also includes a host of other goodies that help keep your joints happy, healthy, and pain-free. The chondroitin sulfate in bone broth has been shown to help prevent osteoarthritis.
3. Look younger. Bone broth is a rich source of collagen. You can find collagen in all kinds of "plumping" products these days, but why stick it on the outside when you can drink it? Not only is drinking it cheaper, but it can make your skin, hair, and nails look just as radiant.
4. Sleep better, and feel better. The glycine in bone broth has been shown in several studies to help people sleep better and improve memory.
5. Immune support. Mark Sisson, author of The Primal Blueprint, actually calls bone broth a "superfood" thanks to the high concentration of minerals. He says that the bone marrow can help strengthen your immune system. (Something that won't surprise your grandma who always made you her famous chicken soup when you got sick!) A Harvard study even showed that some people with auto-immune disorders experienced a relief of symptoms when drinking bone broth, with some achieving a complete remission.
6. Stronger bones. The phosphorus, magnesium, and calcium in the bones seeps out into the broth leaving you with the essential building blocks for healthy bones.
7. More energy. I'm not sure what the mechanism is for this, but if you read accounts of bone broth, you'll notice everyone swears by the energy boost. I'd prefer to see science backing this up, but the research on bone broth is still emerging.
8. It's very economical!..."
.About our FitterActive™ Gold exclusive measuring spoons:
At Fitter Active we are very body and health conscious as well as environmentally conscious.  The FitterActive™ Gold powdered bone broth scoops are heavy weight wooden measuring spoons that are made from solid birch wood harvested from the F.S.C. (Forest Stewardship Council) Certified replanted / sustainable forests and are USDA and CFIA approved.
The FitterActive™ included and exclusive birch wood spoon scoop is a great alternative to, NoN -biodegradable plastic measuring scoops to help our environment.

"My grandmother used to drink a jelly glass of chicken broth every day, even when it was broiling hot outside," said Carl Hoffman, who stopped in on his way home from work at Beth Israel Hospital nearby. Estelle Hoffman lived to be 106, he said: "She called it her fountain of youth."
Reviews